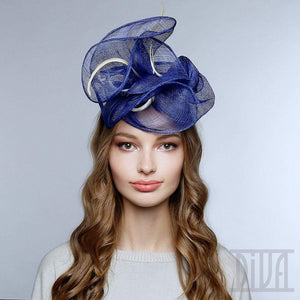 TIMELESS BEAUTY EXUDES AN AURA OF BLISS AROUND YOU 
This Fascinator Headband dignifies your presence on an affirmative note and emanates a sense of exquisiteness and daintiness. It instills the ambiance around you with a sense of classiness and refinement. Leave your mark wherever you go; the world is yours.
Safe & Quick delivery 
Shipping directly from workshop in the heart of Florida all over the US and Worldwide. Highest level of attention to packaging, short delivery time. Everything is sent in stiff cardboard boxes, handled with care.
Eco-Friendly material

Sinamay is a material that consists of 100% abaca fiber. Abaca yarn is another name for banana palm fiber. Abaca is an eco-friendly material, produced in the Philippines. This fiber is more durable than silk.
Customer Reviews
I recommend this product
Love my hat!!!
Awesome! Very helpful. I had a question about delivery and they were very on honest about what they could accomplish in a short period of time which was very helpful.