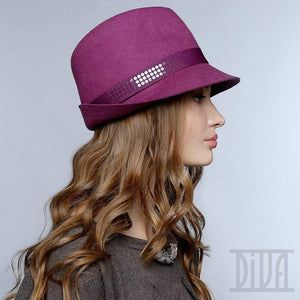 Wool Felt Trilby Hats for Women 
This stylish Felt Trilby hat takes your style to the next level and creates an aura of charm and elegance around you. This woman's men-style hat sets your fashion on a distinctive note and adds a cultured grace to your persona. 
The interior is trimmed with a grosgrain ribbon. You can wear it in fall or winter, anyway, it keeps warm and comfortable.
Available in a few colors.
You can order this hat with any type of trimming and color that is available on our website. Just let us know!
Safe & Quick delivery 
Shipping directly from workshop in the heart of Florida all over the US and Worldwide. Highest level of attention to packaging, short delivery time. Everything is sent in stiff cardboard boxes, handled with care.
Eco-Friendly material
Felt is a wonderfully versatile fabric with a long history. High quality felt consists of 100% wool. Felt is also good to defend against wind and rain. It will not fray because it has no yarns to unravel. Felt molded into various shapes for uses such as hats, berets, bags, boots, and others.
Trilby hats for women are highly detailed accessories that accentuate your outfits with a subtle charm and elegance.