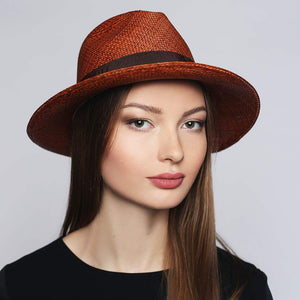 STYLISH SUN PROTECT
Panama Fedora Hat 
This beautiful straw summer hat complements your style as well as protects your face and eyes from the harmful ultraviolet rays of the Sun. The sun hats are recommended as effective UV rays protectants only for covered areas of your skin.
Created using high-quality handwoven Panama straw which is so lightweight, breathable. 
Grosgrain inside for a better posture.
Panama straw is a vegetable fiber, eco-friendly, biodegradable, durable material with 100% natural properties.
Safe & Quick delivery 
Shipping directly from workshop in the heart of Florida all over the US and Worldwide. Highest level of attention to packaging, short delivery time. Everything is sent in stiff cardboard boxes, handled with care.