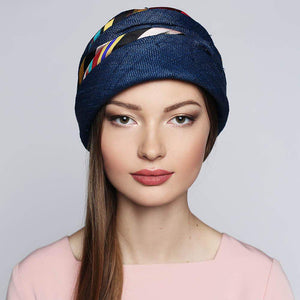 TIMELESS BEAUTY EXUDES AN AURA OF BLISS AROUND YOU
Charming Turban Hat of Raffia Fabric & Silk
57cm(22,4 inches)-59cm(23,23 inches)sizes;

High-quality raffia fabric;

Turban shape;

Lining for a better posture.

Available in a royal blue color;
This turban hat takes your style to the next level and creates an aura of charm and elegance around you. 
If you are interested in a  particular shape but prefer a different color or size,   Just let us know! Every hat is unique and it's a conversation...

📌Safe & Quick delivery 
Shipping directly from our workshop in Chicago all over the US and Worldwide. Highest level of attention to packaging, short delivery time. Everything is sent folded in stiff cardboard boxes.
Eco-Friendly material

Raffia fabric is a vegetable fiber that is woven from the leaves of the Raphia Farinifera palm. It is eco-friendly, biodegradable, and durable with the natural properties of fiber.