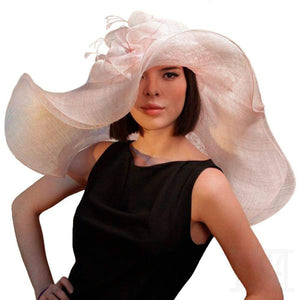 TOUCH OF CHARM AND ELEGANCE
Pink Sinamay Hat with Double Floppy Brims and Flower
Look at your very best, this charming floppy derby hat glorifies your personality and enhances the positivity of your etiquette on all occasions. Whether you are attending a wedding reception, Kentucky derby, or visiting any other formal or informal event, it accentuates your style and glamour with all poise and diligence and takes your fashion to the very next level.
Created using high-quality handwoven sinamay fiber which is so lightweight, breathable, and 100% UV protective.  Grosgrain ribbon inside for a better posture.
If you are interested in a  particular shape but prefer a different color or size,   Just let us know! Every hat is unique and it's a conversation...

 Safe & Quick delivery 
Shipping directly from workshop in the heart of Florida all over the US and Worldwide. Highest level of attention to packaging, short delivery time. Everything is sent in stiff cardboard boxes, handled with care.
Eco-Friendly material
Sinamay is a material that consists of 100% abaca fiber. Abaca yarn is another name for banana palm fiber. Abaca is an eco - friendly material, produced in the Philippines. This fiber is more durable than silk.